Scolary Helps You to Find the Right Tool for Your  Workflow!
Learn more about Scolary, the open science platform for researchers and scientists.
What is Scolary?
Get to know Scolary, the free and open compendium of software tools for the science and research community! On Scolary, you will find a growing collection of products that can drastically improve your current workflow, served by the scientific community itself.
Try out different workflows to see which works best for you, or just use the search and discovery our database by topics that you are most interested in. You can also dive directly into your individual field of science and see what is being offered there.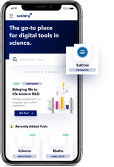 Do you want to add a tool?
Whether you or your company created a tool on your own, or you want to share a tool that you know – Scolary is the place where members of the scientific community are most likely to discover it. Adding tools is also free of charge, even for commercial tools.
Brands can claim their own tools and start engaging with their users in order to maximize customer satisfaction and maintaining a product with the highest possible value.